Fan Bingbing: there are a lot of beautiful people but no one has to be me
2016-07-20 22:00:49
848 ℃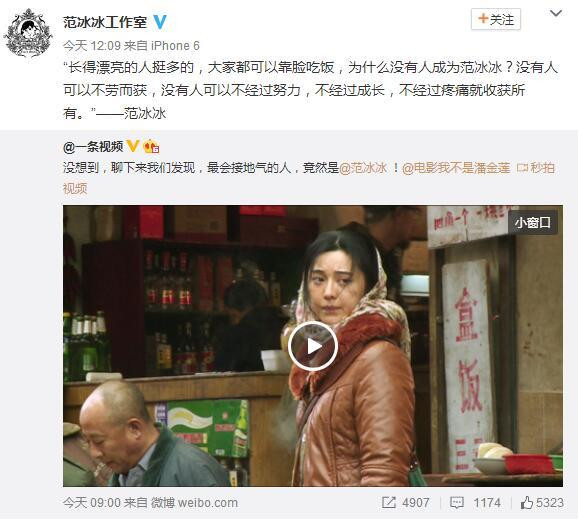 Fan Bingbing studio forward video map
At noon on July 20th, Fan Bingbing studio drying out a video, Fan Bingbing in the video about the movie "I am not Pan Jinlian" views and their own feelings. Studio picked Fan Bingbing video in the sentence as Peiwen: "pretty people very much, everyone can rely on face to eat, why not become a fan bingbing? No one can reap without sowing, no one can not through the efforts, after growing up, after pain harvest all. ' -- Fan Bingbing".
Video, Fan Bingbing about his role in the movie Li Xuelian's understanding, said he was a little like her: we are all." She also reported shooting training every day to listen to the local dialect, dialect recording, is very hard. The video also added a few scenes of the film, Fan Bingbing was poorly dressed, speaking in dialect, as an ordinary rural villager.
Netizens have their point of praise: "three pole!" "Fan Bingbing is only one, each person can only be yourself."