Be caught off guard! Always bold Venus also show up.
2016-07-20 22:00:57
849 ℃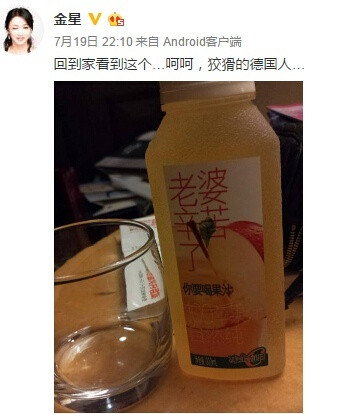 Venus micro-blog screenshot
Phoenix Entertainment News in July 19th, Venus in the sun out of a photo, and the accompanying text, said: "back home to see this...... The cunning german......" Originally, photos, Hans husband as she prepared a bottle of juice, juice of them labeled 'wife hard "the words, no wonder always provocative Venus are deeply touched.
Friends rushed, have a message: "Wow, this is really a lovely husband, sweet!" "This love show me," the husband be caught off guard "good enough! Don't be hard on him!" "Golden elder sister to Hans gentle point well, ha ha!" The "cold food casually shoot me in the face".
Venus micro-blog screenshot
Not only that, Venus also interact with users, to explore how to please his wife. "The older son woke him up, trying to please your wife to buy it!" A couple of affection on.