At least 15 people were killed in a car bomb attack in northern Syria - Beijing time
2017-01-08 10:54:19
233 ℃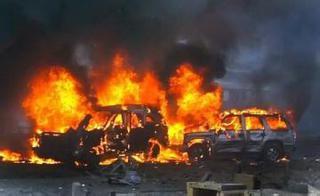 Xinhua news agency, Damascus, January 7, (reporter Yang Zhen Che Hongliang) according to Syria media reported on 7, Syria Beijiao city in northern Aleppo province azaz was a car bomb attack on the same day, at least 15 people have been killed and dozens injured.
According to Syria "patria" website reported that a car bomb detonated in a city of azaz outside the court building, the smoke rising, in addition to casualties, serious damage to the surrounding buildings.
Azaz city near Syria's border with Turkey, the Syrian army has lost control of the city in 2012, the control rights between the extremist organization Islamic state and the rebels several hands.
There is no organization claimed that the attack. Syria observers believe that the Islamic state may be.
In Russia and Turkey and other countries to promote the new round of ceasefire agreement in Syria local time at 0:00 on December 30, 2016 began to take effect. By the Syrian government, representatives of the opposition and other parties involved in the peace talks in Syria is expected in January this year, held in Kazakhstan, capital of Astana.