Korean media: although not announced the election of the Ban Ki-moon campaign team has taken shape - Beijing time
2017-01-08 10:54:27
119 ℃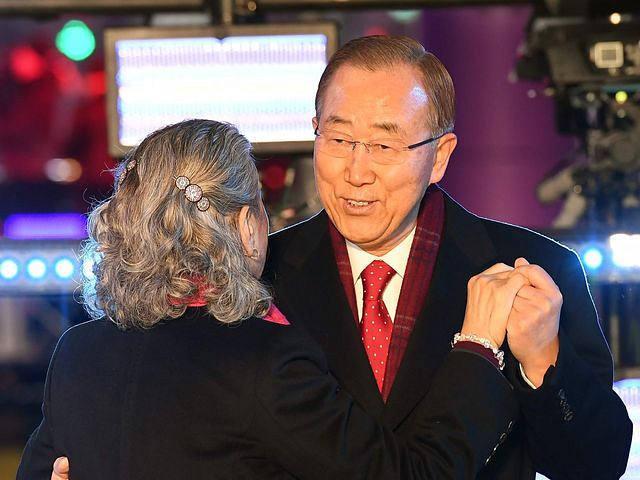 In December 31, 2016, the United States New York Times square, UN Secretary General Ban Ki-moon and his wife's dance in the new year celebration. (Xinhua / new law)
Xinhua news agency, Beijing, January 7th new media news (reporter Zhang Jing) South Korean media reported on 7, the former UN Secretary General Ban Ki-moon is not yet publicly announced the election of the next president of the Republic of Korea, but his "campaign" has been formed, the core members may include several former diplomats, senior economists and political circles.
Ban Ki-moon, an aide revealed that Ban Ki-moon is considering returning to South Korea, visit the years and the former president of the shipwreck occurred in the hometown of the former president of the United States, the United States and the United states.
Core member status exposure
Although Ban Ki-moon has not yet formally announced to participate in the presidential election in South Korea, but he is widely regarded as a potential presidential candidate. South Korean media quoted sources, the core team is composed of Ban Ki-moon "insider" has been formed in response to join the presidential election.
According to these sources, unlike other potential presidential candidates, the core members of the Ban Ki-moon team, including a number of diplomats. He is expected to help the Secretary General of the United Nations, including the Deputy High Representative for Disarmament Affairs, former South Korean Kim Yuanzhu ambassador Wu Jun, former permanent representative of South Korea Kim Sook and former South Korean ambassador to Australia in Kim hyun.
Some media reports in South Korea, Ban Ki-moon's aides have been selected for his new office in South Korea's address, located in the city of Seoul.
Except at the junction of people outside the Chong Wa Dae before the Secretary for Li Bingqi and the ruling new national party MP Po Zhen (transliteration) is regarded as a strong supporter of Ban Ki-moon. Among them, Li Bingqi and Ban Ki-moon are alumni of the University of Seoul, Park Town and, Harvard University, alumni.
The former foreign minister Liu Zongxia, and former South Korean ambassador to Russia Zheng Taiyi (transliteration) are everywhere, inviting experts in various fields to join Ban Ki-moon's team.
In addition, the Columbia University economist and the UN Millennium Development Goals of the core designers Geoffrey? Sax also is expected to play an important role in the team, to provide financial advice for Ban Ki-moon.
Ban Ki-moon, 3, met with reporters in New York, the United States, standing beside him, Sax. Ban Ki-moon said he and Sax discussed how to solve the economic problems facing south korea. Sax said that he is willing to continue to make suggestions to Ban Ki-moon.
Want to visit two important locations
April 16, 2014, rescue workers in the years ferry sank waters to search for survivors. (Xinhua / Reuters)
Ban Ki-moon, an aide said, Ban Ki-moon is considering returning to South Korea, respectively, to the years of the shipwreck and former president of the hometown of the visit of President Roh Moo-hyun. Observers believe that this visit will be regarded as one of the important political events before Ban Ki-moon's presidential election.
This assistant phone through an interview with Yonhap said: "in view of the two sites has a symbolic meaning, he is considering to visit. However, the specific time has not been determined."
Ban Ki-moon considered these two locations accessed are located in Jindo paengmok harbor and Gyeongnam Gimhae peak village.
In April 16, 2014, carrying 476 people, years No. ferry in Jeonnam in South Korea Jindo County screenisland to the North sea water accident and eventually sank, only 172 people were rescued. 295 people were killed in the accident, so far there are still 9 people unaccounted for. Afterwards, from years sank only about 20 kilometers paengmok port has become the main place of people for the victims.
Located in Gyeongnam city of Gimhae Bongha village is the former president Roh Moo-hyun's hometown, is also the location of the cemetery. Roh Moo-hyun served as president of the Republic of Korea from 2003 to 2008, he was killed in a corruption scandal in 2009.
Ban Ki-moon is scheduled to return to Korea 12. Some observers believe that if Ban Ki-moon decided to visit these two locations, the time is expected to be selected before the Spring Festival in January 27th. (according to Xinhua news agency client)