Japanese ambassador to return to the South Korean government called for the comfort women like place - Beijing time
2017-01-11 06:09:14
178 ℃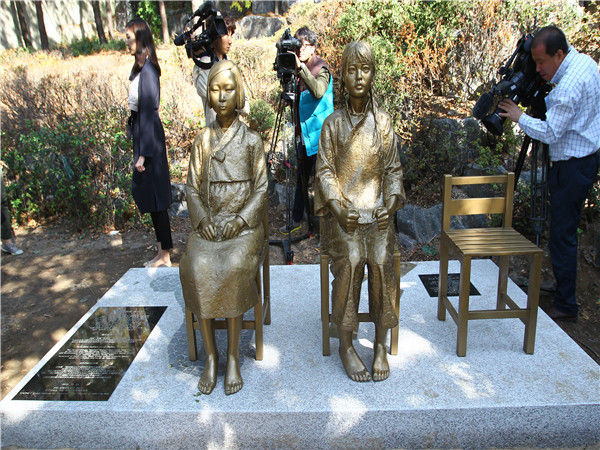 Xinhua news agency, Seoul, January 10, (reporter Du Baiyu Geng Xuepeng) South Korean Foreign Ministry said 10, hope that the authorities concerned to place benefit by mutual discussion, Busan placed the "comfort women" peace girl like.
South Korean Foreign Ministry spokesman Zhao Junhe said at a regular press conference that, taking into account the protection of diplomatic missions and conform to international practices and other factors at the same time that the comfort women victims of painful memories, I hope the central government, local governments and non-governmental organizations and other issues parties brainstorming interests, to find a suitable place to remember the history lesson.
Zhao Junhe said that South Korea's position is at the end of 2015, South Korea and Japan signed the "comfort women" agreement of purpose and spirit should be respected, and the full implementation of the two sides had reached a consensus, "the government is making efforts in this regard".
According to Yonhap news agency, responsible for non-governmental organizations like the girl Promotion Committee responded the same day said: "the Ministry of foreign affairs speech against the guardian of peace girl like the people, as the Japanese government preferred the attitude of chilling. Girls like impossible to transfer." The East Busan city mayor Pu Sanshuo also said: "the Ministry of foreign affairs to withdraw their withdrawal."
Girls, like the Promotion Committee in December 28th last year, the Consulate General in Busan in Japan before the sudden establishment of comfort women like a young girl, the Busan municipal government will be forced to migrate to the open space, was strongly protested. Chang Po sanshuo 30 held a press conference said that allowing non-governmental organizations erected "comfort women" like the girl in the Japanese Consulate in Busan. On the same day, the civil society to re set up the comfort women in front of the Consulate General of Japan in Busan.
This month 6 days, to protest against the New South Korean "comfort women" statue, the Japanese government announced the temporary recall of the Japanese ambassador and Consul General of Japan in Busan. Japan also announced a halt to the exchange of currency swap negotiations between Japan and South Korea, Japan and South Korea postponed high-level economic dialogue. Japan's move triggered protests in South Korea, South Korea once again sparked a dispute between Korea and Japan comfort women agreement.
December 28, 2015, South Korea and Japan government "surprise" signed the Korean and Japanese comfort women agreement, said the two sides on the comfort women issue to reach a final, irreversible consistent". The Japanese side leading to the South Korean government signed the agreement after the "reconciliation and healing fund invested 1 billion yen ($1 about 116 yen), but stressed the" cure gold "instead of" compensation ", the South Korean people think this is the" comfort women "to sell grandma."".