Japanese media: China agrees to the United Nations Member States " open " space station
2016-08-02 03:34:56
268 ℃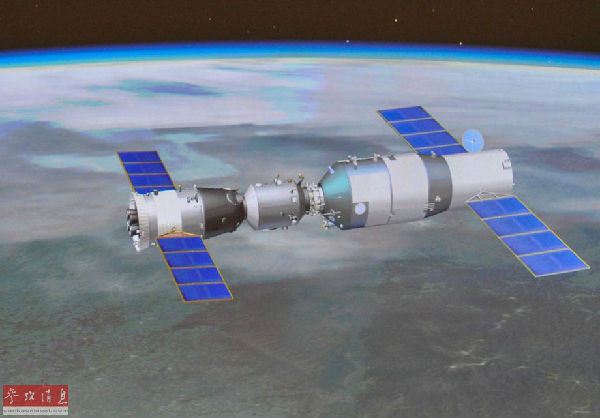 Data figure: Shenzhou ten and Tiangong-1 automatic rendezvous and docking successfully simulated images.
Reference News Network August 2, reported Japanese media said that the Chinese government has and the United Foreign Outer Space Affairs Department (UNOOSA, headquartered in Vienna) to reach an agreement, agreed to in the future to members of the United Nations use strive for the opportunity of 2022 before and after the completion of China's manned space station.
According to Kyodo News reported on July 28. It is reported that the Chinese side will mainly to do not have space technology in developing countries provide opportunity to use, may be intended by opening their own space station as a new international cooperation stage, in order to highlight the sense of responsibility as the existence of "space power".
Reported that the space base is currently used in Japan, the United States, Russia and other countries outside of China to join the 15 international space station, but the use of the plan has not yet been finalized in 2024.
Europe has a request for China
According to the United States, "the Wall Street Journal website reported on July 15, the director general of the European Space Agency John Dietrich, Werner said although the United States Congress continue to strongly oppose, but he has once again proposed to invite China to participate in the international space station.
Werner said he and the United States Aeronautics and Space Administration (NASA) secretary Charles Bolden discussed the possibility of China's participation in the international space station project, but the U.S. Congress and even prohibit NASA and Beijing officials mentioned this matter.
Werner said: "I understand that there are some very strict political restrictions in the United States." But Werner subsequently added "my personal view is' let us see to do something '", in order to avoid the track also appeared two unrelated to the space station.
Reported that, at present, the budget pressures faced by the big powers in Europe, the European Space Agency to consider proposals with Washington, and may even share the cost of aerospace projects with Beijing.
China will build the "economic application" space station
EFE April 24 reported said that China is studying how to in future missions, recovery and repeated use of manned spacecraft, for its ambitious space program to reduce costs, the program content including in 2020 to launch Mars probe.
Reported that Zhou Jianping, chief designer of China's manned space program in an interview with Xinhua News Agency reporter said, "a development target is recovery and repeated use of manned spacecraft, hope our aerospace career development at the cost of utilization can be more effective".